Media Publishers – Drive Revenues through Software Offerings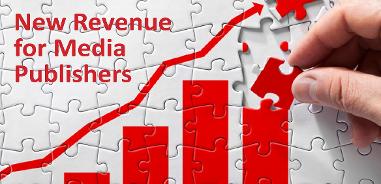 Media publishers – I'm talking newspapers, magazines, and online publications – have built some of the most successful sales organizations on the planet. Especially those selling to local markets. Calling on SMB's to purchase local advertising in publications can be very lucrative, but also a grind for a sales team needing to prospect quality leads, engage them to gain interest, and retain the business month over month – particularly with a large chunk of the advertising spend moving over to search and social media over the past decade. But the fact still stands that you media publishers out there have built the organization, developed the resources and gained the know-how to sell into mass local markets while the market shrinks. Maybe it's just time to expand your offerings.

This is where business software offerings could drastically change your business – driving new recurring revenues for your business, and filling your sales funnel with qualified advertising prospects:

Driving new revenues:

First off, offering software as a service to your customers is a great way for media publications to dramatically increase revenues very quickly and easily. Likely your organization is engaged with a large group of business owners, brands, and media buyers. These are businesses that you've built a relationship with you and are likely open to purchasing new tools they need from a trusted source. Getting a large bulk of clients on to a new offering for many publications could be as easy as sending out an email with an overview of your new offer and driving them to a landing page where they can DIY purchase and set up these tools on their own – easy money.

Fill your sales funnel with qualified leads:

Moreover, this gives you a new way to fill your pipeline with qualified leads for your advertising products. Say you start marketing a bundle of tools like a social dashboard, email marketing, review management, and directory listings. Business owners that are searching for and purchasing these types of tools are serious about marketing and growing their company. They are in a current mindset of driving more business and customers. These are the exact type of people you want your sales people talking to. Now, not only are you driving recurring revenue for your organization through these new products, you are branding yourself to these businesses as a trusted technology provider, and filling your sales funnel with warm leads that are much more likely to be interested in advertising services.

This is where Qebot can help. Our white labeled, out of the box suite of products allows media publications to build a bundle of tools, or sell software a-la-carte. We'll manage all of your support and provide you with sales collateral and training. We can even help you set up your entire billing and paywall system, letting you set your own pricing and collect your revenue up front, so all you have to do is start marketing and selling your new suite of tools.

Schedule a demo of the platform and our publisher partnership program today.