3 Steps to Prepare for Reopening Amidst Covid-19 Fears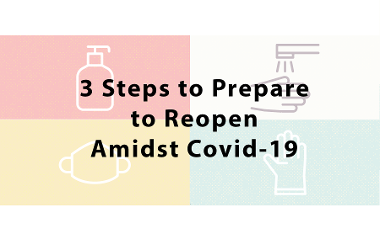 Over the next few weeks and months, local and state regulators will begin easing restrictions, allowing local businesses to reopen with new standards and processes in place. While lifted restrictions will enable businesses to get back to some level of normality, it will only be half the battle in driving customers back. Fear will still be a major driver in keeping patrons away from getting back into a normal routine, and enjoying the products and services of pre-pandemic times.

Here are 3 ways that business owners can get the message out to reassure customers and promote the steps and precautions being taken to ensure the safety and security of their customers.

1. Make a Plan

Create a plan of action on how you will keep people safe at your business. Outline your strategy to keep 6 foot social distancing between each patron, how you'll clean the premise between customers, what requirements you'll put in place for visitors (are you requiring masks?), and what personal protective items like hand sanitizer you'll have on site for your customers. Put a strict process in place about how you'll manage the traffic in and out of your establishment. The more planning and structure you have in place, the more you'll show you are taking this seriously and can curb the fear that many will be feeling.

2. Distribute your Plan

Now that you have your plan in place, it's time to let your community know what steps you are taking. This is where a platform like Qebot can help! Use local online directories like Google, Yelp, Citysearch, etc. to post news and updates about what you're doing to keep your customers safe. A directory management tool like that on Qebot can help you update and post to dozens of online directories the plan you've created to ensure their safety.

Have you been collecting customer information such as email addresses? This is a great time to utilize your contact list to start a weekly newsletter to let your customers know how you'll protect them, testimonials from customers about your safety precautions, and updates about your products and services to get customers excited again.

3. Get Social (virtually)!

With social distancing in place, people are turning to social media to get their news and personal interactivity. Word of mouth business will be dramatically lower with people no longer connecting in person through regular socializing and working together. This is why you should start building your social presence across all social networks.

Social media is also another great place to distribute your plans for safely reopening to the public – while also being able to engage with past and potential customers! Moreover, with different people and generations favoring certain social platforms, it's important to be active and connect on as many as possible. This can become a tedious task for any business owner – but there are tools to help manage all of your social presence within one platform. This way you can find new content to post, engage across all social profiles, post news and updates with one click across all platforms, and drive engaging conversation about your business in an efficient manner.

Qebot Can Help!

If you are looking for technology to help you put your plan together and distribute it to your community, the Qebot platform can help. With these best-in-class technologies in a single platform and at lower prices than purchasing these tools direct, Qebot can help you message your new operational standards to make your customers feel safe and secure.

Visit Qebot.com to check out a-la-carte tools, and create your free account to shop and discover technology to prepare for our upcoming new reality. Stay safe!